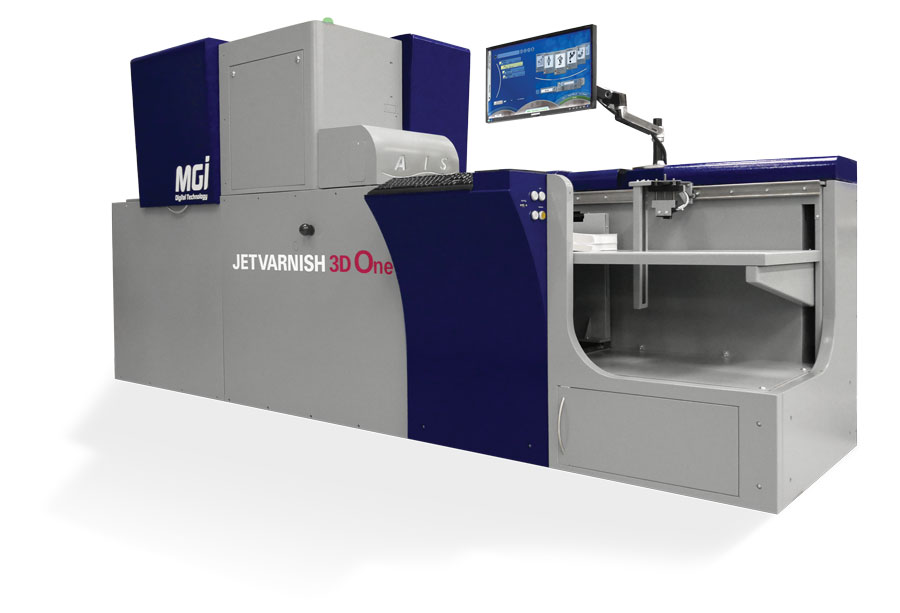 JETVARNISH 3D One
MGI offers the simplest and most affordable solution to join the JETVARNISH family of digital finishing presses, a family of 7 models, sheet-fed or reel-to-reel.
The JETVARNISH 3D One, with its small footprint, allows any printer to have its own in-house UV digital coater, capable of high value-added production, from prototyping to mass production, without screens, chemical solvents, plates or tools.
The JETVARNISH 3D One uses only one type of coating to produce 2D or 3D tactile coatings, in fixed or variable data. Its automatic cleaning system of the inkjet heads allows to optimize its uptime with ease.
Versatile, the JETVARNISH 3D One allows the application of flat or raised varnish with tactile effect, on substrates as varied as paper, cardboard or plastic, from 135 to 450g, previously printed in digital (toner or inkjet), offset, screen or flexo printing.
Easy to use, the JETVARNISH 3D One is controlled from an onboard screen, integrating file management, cost calculator and direct retouching of coating files. The AIS SmartScanner, an artificial intelligence-driven automatic registration system, guarantees perfect coating registration from the very first page, and automatically corrects the coating application in real time, according to any substrate deformation.
Agile, the JETVARNISH 3D One allows printers to differentiate themselves by offering to enrich printed materials with sensory and tactile effects on all types of documents: business cards, announcements, brochures, book covers, leaflets, labels, folding boxes...
With the JETVARNISH 3D One, it has never been easier to enter the market of UV selective varnishing, flat or embossed, while benefiting from the quality of the technologies and the service of the world leader in the sector.
General characteristics
Formats
Min : 210 x 297mm
Max : 364 x 750mm
Margin
High capacity, up to 28cm or 2,200 sheets in 135 gsm
Paper feed by suction and belt
Recipe
Capacity: 1,250 sheets in 135 g/m2
Overflow sensor
Paper transport
100% flat track
Vacuum system
Automatic double sheet detection
Maintenance and video maintenance
Automatic head cleaning and wiping
Less than 10 minutes of daily maintenance
Numerous automated procedures
Cold start < 10 minutes
Remote video support with webcam (broadband Internet connection required)
Substrates
Compatible with most matte or glossy laminated surfaces, with or without acrylic varnish, coated paper, plastic, PVC and other closed surfaces (1)
Direct printing on most digital prints without lamination or surface treatment (1)
Substrate thicknesses
Motorized height adjustment of the heads
Min: 135g/m² or 150 µm before printing and lamination
Max: up to 450g/m² or 450 µm with printing and lamination
Front End System
Control via a screen

Many features:
Ethernet 10/100/1000 BT connection in RJ 45
Production cost calculator, image editor, queue and reprint management, print head, speed and time settings, etc.
Parameters and technical data of the equipment accessible via PLC
Possibility to modify varnish files on machine, without DTP (Image Editor)
Selective UV inkjet
General
UV inkjet developed by MGI
Drop-on-Demand (DoD) technology
Piezo heads. Single pass printing
Modular and scalable printing architecture
Production speed
Up to 3500 A4/hour in 21µm
Useful printing width
352mm
UV varnish and autonomy
The JETVARNISH 3D One is delivered with a 10 liter can of varnish. Canister change during production, without machine stop
Varnish thickness
Depending on the file and the substrate used, the thickness of the coating can vary from 21(1) microns (μm), equivalent to a traditional selective varnish, up to 116(1) μm for a 3D touch effect
The minimum thickness on toner is 30/35µm for optimal print quality
Tracking
Automatic tracking via AIS SmartScanner as standard for full sheet scanning in real time.
Tolerance ± 200 microns
In-line UV curing
With ozone-free LED technology
Ability to handle or finish coated sheets - immediate
Other options
Coaxial lamp
SmartScanner AIS coaxial lamp for metallized papers
Variable data
Automatic PDF converter using PC-C1
Camera for automatic reading of pre-printed barcodes
Dimensions
Dimensions (W x D x H) & weight: from 4.02 x 1.2 x 1.80m
Necessary clearance: 1m all around the press
Up to ± 1068kg
Default sheet sizes are ISO standard unless otherwise noted. All speeds are nominal.
(1) contact MGI to check compatibility with your substrates / lamination / toner / acrylic varnishes
addressed markets
examples of achievements