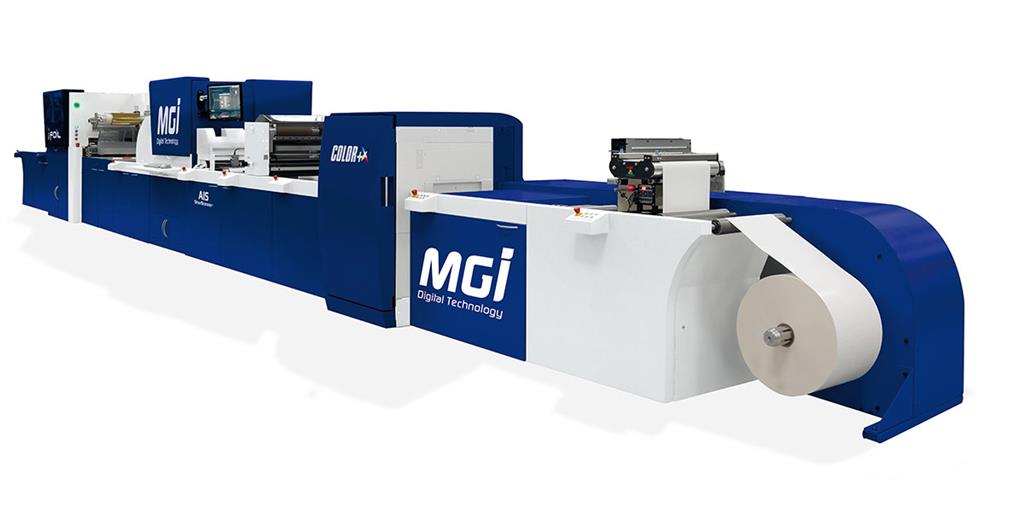 JETvarnish 3D Web Color+
The first ever digital reel-to-reel printing and finishing press on the market
The integration of the Color+ four-color printing engine with the JETvarnish 3D Web finishing solution allows to:
simplify and optimize the process and production flow
reduce the number of equipment in the machine park
minimize production time by limiting operations between each equipment
reduce the number of operators
reduce floor space requirements
eliminate load breaks
reduce stalling time and waste...
The Color+ engine of the JETvarnish3D Web, is a four-color toner print engine delivering high precision, high quality and fine printing equivalent to 3600dpi. This engine is compatible with a wide range of substrates, such as coated, uncoated and synthetic papers, such as PP and PET from 60 to 250μm.
General characteristics
Printing speed
Up to 42m/mn(1) (depending on the application)
Supported widths
From 100mm to 420mm
Useful printing width up to 405mm
Tracking
The JETvarnish 3D Web Color+ is equipped with a revolutionary on-the-fly registration system, controlled by Artificial Intelligence, the AIS SmartScanner, which scans each application and corrects the application of varnish and gilding, according to any deformation of the substrate. With this automated on-the-fly registration process, the operator is freed from time-consuming makeready
Four-color printing
4 color printing - dry toner
Printing speed up to 18.9m/min depending on the substrate (2)
Substrate thickness: from 60 to 250μm
Wide compatibility of paper and synthetic media (PP, PET)
Supported width up to 330mm
Printing width up to 320mm
1,200×1,200dpi 8-bit resolution (equivalent to 3,600dpi)
Four color process overprint on foil for unlimited metallic colors
Variable data in foil and full color (text, numbering, images, personalization, ...)
Foil rolls delivered in standard 320mm width
Substrates
From 50 to 400 microns (μm)(2)
Coated, uncoated and textured paper, film or labels
Adhesive labels
White or transparent synthetics, PP, PE, POPP, PET
Flexible cardboard
Shrink film: PVC, PETG (3)
Unwinder
max. outer diameter 850 mm
76 mm (3 inch) pneumatic chuck
weight capacity 120 kg max
Flexo printing module
Integrated flexographic station to apply a surface treatment on all or part of the web. This station is mainly used to apply a UV primer before finishing. The module is delivered with a UV dryer. The module is delivered with an anilox roller. Additional anilox rolls are available as an option depending on the application.
Rewinder
Servo-driven rewinding unit:
Max. outer diameter 850 mm
76 mm (3 inch) pneumatic chuck
Max. supported weight 120 kg
UV selective varnish and embossing module
General
This station uses MGI inkjet technology for the production of UV selective varnish. A simple grayscale TIF file, designed by the prepress department, determines both the area to be coated and the different thicknesses of coating to be applied to each label. This 100% digital process eliminates screen printing screens.
Varnish and drying
Varnish thicknesses : From 7(2) up to 232(2) μm (for flat (2D) or 3D effects).
In-line drying: The module is equipped with a UV dryer and chill roll for optimal substrate temperature control. The drying cycle includes a roll advance and rewind function to perfectly dry each label and produce a perfect quality while running jobs without waste.
High gloss varnish 99 GU.
Digital hot stamping module
General
The hot foil stamping module brings a very high added value to all your labels. A simple TIF file, designed by the prepress department, determines the surface that will receive the foil for each label. This 100% digital process eliminates clichés. This module can be disabled at any time.
Stamping coils
The hot stamping films are delivered in reels:
Film from 100 to 420mm width,
Two chucks available: 76mm (3 inches) and 25,4mm (1 inch)
Length of 400 to 2,000 meters of gilding film.
Up to 3 stamping reels on the same web.
Other options
Corona treatment
In-line system designed to optimize coating adhesion on complex printed substrates.
Cutting, slitting and trimming module
Complete semi-rotary slitting and rewinding module, with the possibility of adding an additional double rewinder, for an all-in-one solution: printing, finishing, slitting, rewinding and slitting.
Variable data WTP
Management and modification of files on the workstation
Complete variable data (text, graphic, image) for selective varnishing and gilding areas.
Integrated barcode reader (1D / 2D) Optional Raster Image Processor (RIP)
Dimensions
Up to 15.2(4) x 1,58 x 1,81m
Required clearances: 1 meter on all 4 sides
Weight: ± 6,847kg
(1) the speed varies according to the parameters used
(2) contact MGI to check the compatibility of your substrates
(3) not compatible with the optional 4-color printing module
(4) all options case - depending on the chosen configuration
addressed markets
examples of achievements