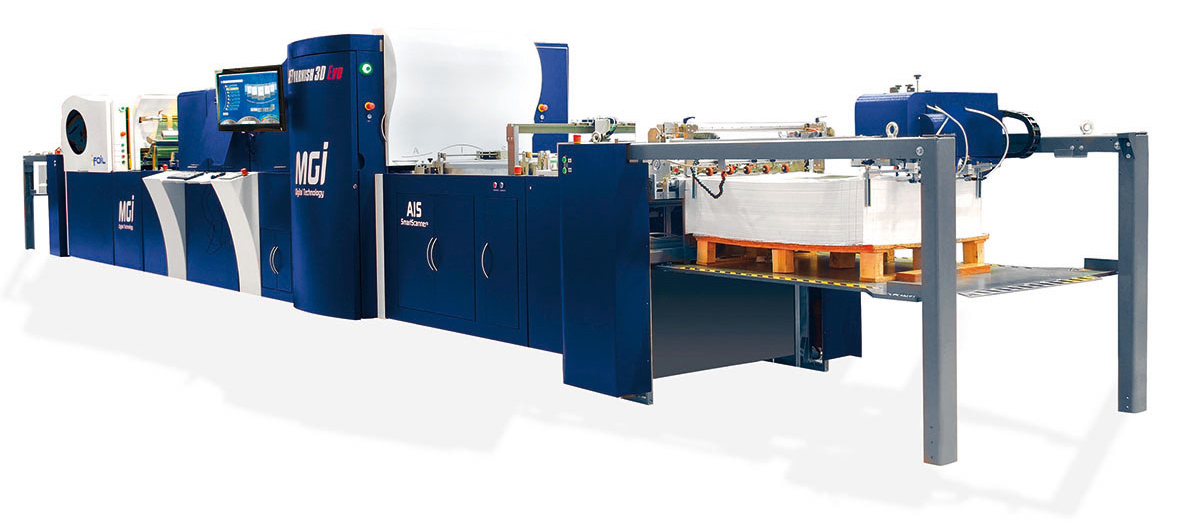 JETvarnish 3D Evo
Discover the flagship of the JETvarnish product range in B1+ format
The JETvarnish 3D Evo is designed for offset and digital printers who want a digital finishing solution for demanding production environments. It allows 2D/3D UV selective varnishing, embossing up to 200 µm and 100% digital gilding.
This equipment delivers a high added value and sensory dimension to all printed productions. It is also an adapted solution for prototyping and proofs at very competitive costs.
JETvarnish 3D Evo ensures a high level of productivity up to 4,200 B2 ISO sheets per hour (70.7 x 50 cm). Its 8-positions format (up to 75×120 cm) allows it to respond favorably to the specificities of the packaging markets.
This solution features a revolutionary system with an artificial intelligence driven scanner - AIS© Artificial Intelligence SmartScanner. This system minimizes the time spent on makeready and automatically controls and corrects the production in real time for each sheet.
General characteristics
Formats
Min : 42 x 29,7cm (width x length)
Max : 75 x 120cm
Sheet weight
Min: 135g/m² (or 150 µm) before printing and lamination
Max: up to 800g/m².
Compatible with solid board
Substrates
Direct application of the 3D coating on most of the(1) matt or glossy coated surfaces, with or without acrylic varnish, coated paper, plastic, PVC and other closed synthetic materials
Direct application of the 3D coating on some(1) digital toners (e.g. MGI Meteor)
Selective UV inkjet
General
UV inkjet developed by MGI
Drop-on-Demand (DoD) technology
Piezo heads. Single pass printing
Modular and scalable printing architecture
Varnish thickness
Depending on the file and substrate used, from 3 microns(1) equivalent to a traditional selective varnish, up to 232µm(1) for a 3D touch effect.
Production speed
The default sheet size is B2 ISO unless otherwise specified
Up to 3,123(2) B2 sheets per hour for all models.
Up to $4200(2) (3) B2 sheets per hour in the direction of the width 75cm
Up to $2,291(2) (3) B1 sheets by the hour
Tracking
Left and right motorized grinding table
Automatic tracking via SmartScanner AIS as standard for full sheet scanning in real time
Tolerance ± 200 microns
Printing width
51 cm (standard)
73 cm(4) according to the chosen configuration.
Digital hot stamping
General
Optional digital hot stamping module
The default sheet size is B2 ISO
Production speed up to 2,300 B2 sheets(2) (3)
(lengthwise) per hour (or 25m/min)
Films - film consumption optimization system
Stamping coils
Maximum roll diameter and length: ± 30cm and from 400 to 2000 meters of film. Up to 3 film reels can be loaded simultaneously with widths > 10cm
2 chucks available: 1 inch standard and 3 inches.
Maximum area
The useful surface of gilding cannot exceed 74x119cm(3)
Embossing
2D and 3D tactile effects
The metallized films can be covered with a layer of varnish for protection or aesthetic reinforcement
the speed varies according to the parameters used
Dry air
Requires 6 bar and 24 m supply3/hour (dry air and without oil)
Other options
Corona treatment (5) (6)
In-line system designed to optimize coating adhesion on complex printed substrates
Variable data WTP
Management and modification of files on the workstation
Complete variable data (text, graphic, image) for selective varnishing and gilding areas.
Integrated barcode reader (1D / 2D) Optional Raster Image Processor (RIP)
Dimensions
Dimensions (L x W x H) & Weight Up to (L x D x H) 12.42 x 1.93 x 1.84m (Evo 75 all options)
Necessary clearance: 1m on 3 sides and 2m at the recipe
Up to ± 4,529 kg (Evo 75 all options)
(1). contact MGI to check the compatibility with your substrates / lamination / toner / acrylic varnishes
(2). The speed varies according to the parameters used
(3). with Evo 75 kit
(4). depending on the chosen configuration
(5). recommended on substrates larger than 42cm width
(6). recommended on papers over 250g / 250µm
addressed markets
examples of achievements