Label French Tech Expo - webinar
Label French Tech Expo moves to webinar format - November 4-6, 2020
The current health situation has prompted the 5 organizers of the Label French Tech Expo to opt for a webinar format. On November 4, 5 and 6, as part of the Label French Tech Expo, professionals in the adhesive label and flexible packaging sectors will be able to attend online demonstrations of the latest equipment in situation, offered by MGI Digital Technology, Codimag, GIC, Serame and Smag.
Only online exhibition of the year in the label and flexible packaging
The French Tech Expo OnLine 2020 is the only event dedicated to the sector, allowing visitors to attend live demonstrations of fully operational equipment behind their computers. This new kind of virtual exhibition responds to the needs of the industry's professionals to discover the latest innovations developed by MGI, Smag, Serame, Codimag and GIC that will allow them to differentiate themselves on the market.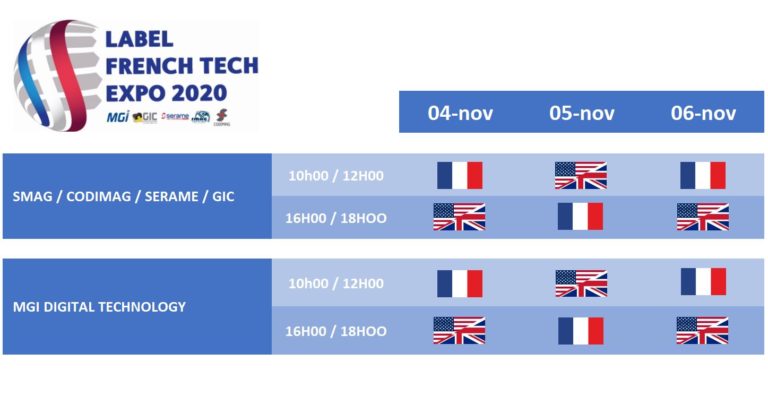 100% online demonstrations of operational equipment
The Label French Tech Expo Online will take place over 3 days, on November 4, 5 and 6.
Two equipment presentation sessions will be held, by :
MGI Digital Technology on the one hand,
and Codimage, Smag, GIC and Serame on the other hand.

Each day, these two sessions will be available online, in French, in the morning from 10:00 am to 12:00 pm, and in English, from 4:00 pm to 6:00 pm. In total, printers will have 12 demonstration sessions at their disposal, for which they can register freely. Open to all printers and converters in France and Europe, the Label French Tech Expo 2020 can be discovered online, on the Label French Tech Club website, where you can register for the different sessions in a few clicks.
Make a date now for the Label French Tech Expo: November 4-6, 2020, Paris!